Lately I have been facing some difficult and hurtful things. My faith has wavered as I wondered what in the world I was going to do, and I let my emotions lead me into a place of judgementalism...that seemed justified! But thank God I've heard His voice and received His loving correction! I'm so thankful that He's brought me to a place now where in stead of feeling condemned when He corrects me, I'm actually glad because I understand that His correction is because of His love for me and that He is transforming me into His dear image from glory to glory! I'm so thankful that He corrects me so that I can share in His holiness!!! Hallelujah!!!  
As God began to open my eyes to my need of repentance, He started dealing with my heart about the truth of His Word, and specifically promises that He Himself has given to me personally! Thank God He still speaks to His children!! How we need to cling to and hold on to His promises!!! These need to be our daily confessions, not our problems, trials, lack, or our feelings, but His truth!! God's Word will never change! It is forever established in Heaven! His Word does not change even when the circumstances and situations around us seem completely opposite!!!  
I took these beautiful pictures of the clouds on some of our trips recently. I love the sky...especially clouds! To me, there is nothing more beautiful than when the sun is shining through them. It just makes this glorious, heavenly display!!! Yesterday on the way to Cowboy Church, as I was looking at the beautiful sky and all the pretty clouds, I felt the presence of the Lord so strongly, and I knew He was speaking to my heart. I asked Him what it was He wanted me to know, and I immediately thought of Hebrews 12.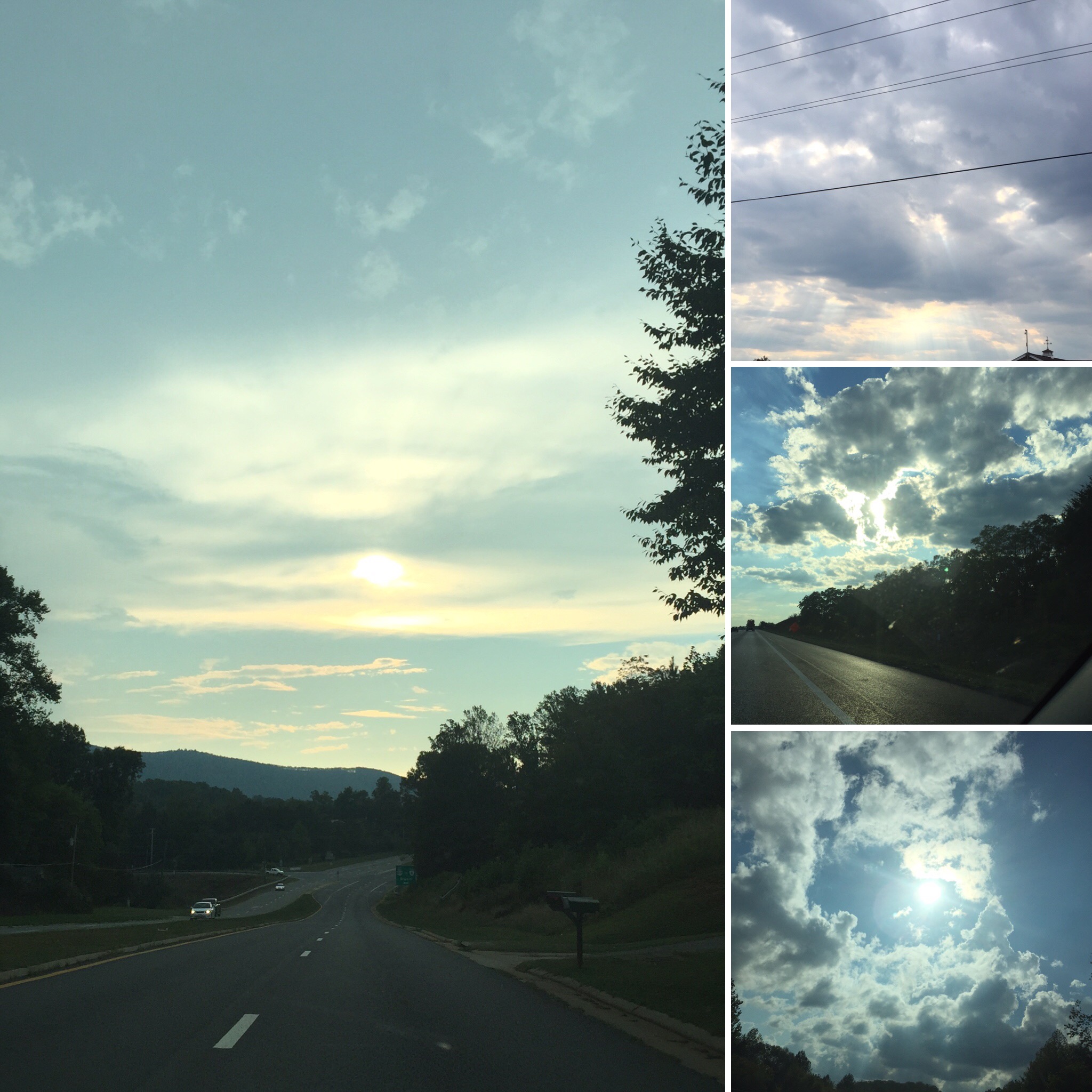 "Therefore, since we are surrounded by so great a cloud of witnesses [who by faith have testified to the truth of God's absolute faithfulness], stripping off every unnecessary weight and the sin which so easily and cleverly entangles us, let us run with endurance andactive persistence the race that is set before us, [looking away from all that will distract us and] focusing our eyes on Jesus, who is the Author and Perfecter of faith [the first incentive for our belief and the One who brings our faith to maturity], who for the joy [of accomplishing the goal] set before Him endured the cross, disregarding the shame, and sat down at the right hand of the throne of God [revealing His deity, His authority, and the completion of His work]. 
Just consider and meditate on Him who endured from sinners such bitter hostility against Himself [consider it all in comparison with your trials], so that you will not grow weary and lose heart." 
Wow!! I dare say that any trial that we could possibly face in this life is nothing compared to what Jesus went through for us!!! And He didn't want to do it, at least his flesh didn't. He prayed in the garden, "Father, let this cup pass from me...NEVERTHELESS, not MY will but Thine be done." And He endured all of the suffering, the shame, and everything else because of the joy that was set before Him! In suffering and giving of Himself completely, He DEFEATED the works of darkness and completely conquered the devil and took back the keys to death hell and the grave!!!! Hallelujah!!!!!!  
What if we dared to live life in the way that Hebrews 12 teaches? What if in the midst of hardship, pain, and suffering we really looked away from all that tries to distract us and looked unto King Jesus, the Author and Perfecter of our faith? What if we really took the time to consider and meditate on all He endured for us and determined to endure, just like He did, for the joy that is set before us...on the other side of suffering? Let's make up our minds to live this way!!! Let's take God at His Word!!! Just look around you...the whole earth is singing God's praises! He is faithful! I guarantee you it will be an amazing journey and I know beyond the shadow of a doubt that we will see the truth of God's Word start come alive before our eyes and the lies that the enemy has been trying to blind us with will fade away! The truth is, God works ALL things together for the good of those who love Him and are called according to His purpose! How many blessing in disguise have we missed because of our ungodly attitudes and mindsets? Help us Jesus!  
Just like how clouds make the sky beautiful and interesting and carry the rain needed to sustain life here on earth, so our trials and tests make our lives a beautiful piece of art, woven and stitched together by Almighty God Himself!  Without them our faith is nothing. Look at the Hebrews 11 and all of those faith hall of famers!!! What they went through, what they endured, but they had their eyes fixed on the goal and on the prize!!! And by the way, these are the "so great a cloud of witnesses" we are surrounded by that Hebrews 12 talks about.  
Today I encourage you to surrender to Father God! He love you so much and has a wonderful plan for your life! Seek Him and you will find Him; knock and the door will be opened to you! I pray His peace and presence guard and guide you in all your ways and that you grow closer to Him with each passing day!!!  
I pray this has blessed you! Please message me or comment below with questions or prayer requests.